Sergei Gonchar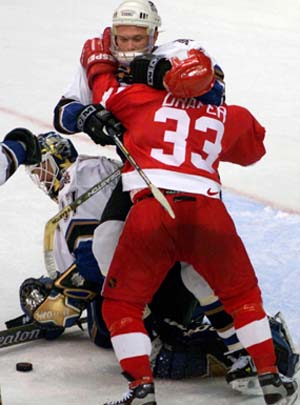 Date of Last Contract:October 3, 2000
Signed Through: 2003-2004 Season
Details:
2000-2001 = $3,200,000
2001-2002 = $3,450,000
2002-2003 = $3,650,000
2003-2004 = $3,650,000
Article:
Gonchar Signs 4-Year Deal
By Jason LaCanfora
The Washington Post
Wednesday, October 4, 2000; Page D01
The Washington Capitals completed a flurry of roster moves yesterday to trim to the season-opening 23-man roster, signing star defenseman Sergei Gonchar to a four-year contract and sending veteran defenseman Dmitri Mironov, utility forward Terry Yake and promising rookie defenseman Mike Farrell to the minors.
The Capitals, who lost their final preseason game last night to the Carolina Hurricanes, 5-3, at MCI Center, still have not reached an agreement with restricted free agent winger Chris Simon, who led the club with 29 goals last season, and are bracing for a lengthy impasse.
The club also is seeking to trade disgruntled winger Peter Bondra and were recently deep into talks with Chicago, though sources said that deal appears dead. According to NHL sources, the Blackhawks were willing to part with oft-injured Eric Daze, a former 30-goal scorer, and a package that included either forwards Michal Grosek and Dean McAmmond or defenseman Anders Eriksson. However, sources said the Capitals do not have favorable reports on any of the players involved and the club sees little trade potential with the Blackhawks.
Simon's contract is the last unfinished business for the club besides Bondra's plight. McPhee said talks with Simon and his representatives are ongoing, though sources said the sides are appreciably apart. Simon is seeking a long-term deal while Washington is unwilling to explore that option given the 28-year-old's history of major shoulder injuries.
"Once we know what we have we lock them up," McPhee said. "And we're prepared to do that with Simon; if he wants to come back on a one-year deal and have a similar year to last year, then we're prepared to lock him up for a while after that. But there has to be some sharing of the risk."
Meantime, Gonchar, the NHL's top goal-scoring defenseman over the last two seasons, returned from Toronto last night and is expected to practice today. But General Manager George McPhee said the 26-year-old will not play in this weekend's games as he works back into game shape. (Star goalie Olie Kolzig will open the season on injured reserve as he recovers from minor knee surgery.)
Gonchar made $1.8 million last season and will earn $3.2 million this season, $3.45 million next season and $3.65 million in each of the final two years of the contract.
"He's established himself as an elite defenseman in the league the last couple of years," McPhee said. "So we rewarded him with a long-term deal, which reflects what kind of player he is. We were willing to spend a lot of money; we expect for him now to compete for a Norris Trophy" as the NHL's best defenseman.
"The only negative in this whole thing that I'm not comfortable with is the fact that he misses all of camp and he starts getting paid" today, McPhee added. "Starting next year I'm going to have to come up with some sort of policy to have some sort of penalty when a guy misses camp. It's not fair to [Gonchar] right now--he's going to get his money but he could get hurt and that would hurt the club--and 25 other players who have been busting their butts. He should have been part of that group."
Gonchar is the team's highest-paid defenseman, a distinction that once belonged to Mironov, who has floundered since singing a four-year, $12 million free agent contract with the Capitals in 1998. He has $6 million left on that deal and will now earn that money with Washington's minor league affiliate in Portland, Maine.
Washington has tried to deal him for a year, drawing mild interest lately from Chicago and Dallas, sources said. It seems unlikely he would be recalled anytime soon with a host of youngsters pushing for ice time, and the 34-year-old could still be bought out by the team, allowing him to sign elsewhere.
Like Mironov, Yake was exposed in the recent waiver draft and went unclaimed. His trip to Portland ensures versatile Glen Metropolit will start the season here, which seemed unlikely at the start of camp. Metropolit has provided a spark on what was a stagnant power play and works well with top center Adam Oates on the man advantage, though it's likely he would be the odd man out when Simon re-signs or if Bondra is dealt for a capable forward.
The decision to demote Farrell was the most difficult of the day. The personable 21-year-old won over coaches with a great attitude and a skill level incongruous with his pedigree (he was picked 220th overall in the 1998 draft out of Providence College). He enters the season an injury away from making his NHL debut.
Farrell and 18-year-old surprise Jakub Cutta both played well enough to merit a spot on the team, but Farrell can be sent to Portland and recalled at any time, while Cutta, if cut, would have to be returned to his junior team in Western Canada and could not be recalled until late spring, when his junior season was over.
Capitals Notes: Kolzig could begin light practice by the weekend, Coach Ron Wilson said, though Washington will take every precaution with the franchise player. Kolzig is making a rapid recovery and might be ready to return quicker than anticipated, but Wilson said he would resist that temptation and hold the all-star out until at least mid-October. . . . The Capitals have added WNAV-1430 in Annapolis to their radio network.
© 2000 The Washington Post Company