Dmitri Mironov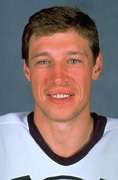 Date of Last Contract:July 14, 1998
Signed Through: 2001-2002 Season
Details:
1998-1999 = $2,750,000
1999-2000 = $2,750,000
2000-2001 = $3,000,000
2001-2002 = $3,000,000
Article:
Mironov Says He'll Sign With Capitals
By Josh Barr
Washington Post Staff Writer
Monday, July 13, 1998; Page C1
Free agent defenseman Dmitri Mironov yesterday said he will sign a four-year contract with the Washington Capitals.
Mironov, a member of the Stanley Cup champion Detroit Red Wings, said his agent, Jay Grossman, and the team agreed on a four-year, $11.5 million contract.
"I think it's only [a matter of] paperwork now," Mironov said from his home in Toronto. "I think it will be done next week."
Grossman and Capitals General Manager George McPhee could not immediately be reached to comment. On Saturday, McPhee said he was negotiating to sign Mironov but that no deal had been reached.
Mironov's salary will be $2.75 million in each of the first two seasons of the contract and $3 million in each of the final two.
The Capitals were not active during the opening days of the free agency period, which began July 1, opting not to pursue high-priced forwards Brett Hull (who signed with the Dallas Stars), Doug Gilmour (who signed with the Chicago Blackhawks) and Ron Francis, who reportedly has agreed to a contract with the Carolina Hurricanes.
However, the addition of Mironov, 32, gives the Capitals the flexibility to make additional moves. Although they are unlikely to re-sign free agent Jeff Brown, the Capitals have plenty of depth on the blueline with Sergei Gonchar, Mark Tinordi, Phil Housley, Calle Johansson, Ken Klee, Joe Reekie and Brendan Witt.
Mironov was acquired by the Red Wings from the Anaheim Mighty Ducks in late March. During the regular season, he totaled eight goals and 35 assists with 119 penalty minutes in 77 games. And while he played in just seven playoff games for the Red Wings, with no goals and three assists, he was considered one of the better offensive-minded defensemen available in free agency.
Mironov, who is 6 feet 3 and weighs 215 pounds, is a Group III free agent (players who are at least 31 years old with at least four seasons in the NHL). Teams signing Group III free agents owe no compensation to the player's previous team.