Andrei Nikolishin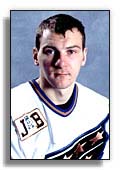 Date of Last Contract:August 1, 2000
Signed Through: 2000-2001 Season
Details:
Article:
Nikolishin Agrees to Capitals' Offer
by Athelia Knight
The Washington Post
Tuesday, August 1, 2000
Washington Capitals center Andrei Nikolishin yesterday accepted the team's qualifying offer of $1.13 million for next season.
With the emergence of center Jeff Halpern and the possibility that 1999 first-round draft pick Kris Beech will make the team this season, Nikolishin, a restricted free agent, had been under pressure to sign. Last season, his role was reduced to checking-line center.
Nikolishin, 27, who earned $1.025 million last season, had 11 goals and 14 assists for 25 points in 76 games last season, finishing 12th in team scoring. "Nico is a solid veteran who played injured last year, and we're looking forward to a strong season from him this year," Capitals Vice President and General Manager George McPhee said.
A native of Vorkuta, Russia, Nikolishin has played the last four seasons with the Capitals. He has appeared in 246 games, scoring 32 goals and adding 65 assists for 97 points for Washington.
The Capitals acquired Nikolishin from the Hartford Whalers on Nov. 9, 1996, in exchange for Curtis Leschyshyn. In his six-year NHL career, he has appeared in 358 games, totaling 56 goals and 117 assists for 173 points.
The Capitals still have five restricted free agents unsigned. Defensemen Brendan Witt and Ken Klee have filed for salary arbitration and their cases will be heard Aug. 10 and 11. The other three free agents who have not signed are defenseman Sergei Gonchar, left wing Chris Simon and center Jan Bulis.