Richard Zednik
Date of Last Contract: September 21, 1999
Signed Through: 2001-02 Season
Details:
1999-2000 = $650,000
2000-2001 = $685,000
2001-2002 = $765,000
Article:
Capitals Sign Zednik to Three-Year Deal
By Jason La Canfora
Washington Post Staff Writer
Wednesday, September 22, 1999; Page D2
The Washington Capitals signed restricted free agent Richard Zednik to a three-year deal yesterday, giving them a full compliment of players for the final 10 days of preseason.
Zednik, 23, will make a base salary of $650,000, $685,000 and $765,000 over the three seasons and can earn significantly more should he reach certain performance bonuses. The deal came together when the sides closed a $150,000 gap by splitting the difference and altering a few incentive packages. The winger was expected to head to Washington last night from Slovakia, where he spent the summer.
He is among a highly talented core of young players the Capitals expect to breakthrough this season. Zednik, Jan Bulis and Yogi Svejkovsky all have dynamic offensive abilities, but their progress has been hindered by injuries. After gaining international attention for his strong playoff performance in 1998, Zednik was limited to nine goals and 17 points in just 49 games last season because of shoulder and groin injuries.
"He has the ability to provide goal production and be a very explosive player," General Manager George McPhee said. "He brings great speed, and given a full season and a healthy season he could be a very effective player for us. It's up to him now. It's a three-year deal and he has three years to really work hard and turn himself into a top player."
Zednik, the 249th pick in the 1994 draft, scored 79 goals in 126 junior hockey games. He is entering his third full season with the Capitals. He has good skills with the puck and some of the most powerful legs in the league. He's tough to knock off the puck and brings a creative flair to a team in need of offensive help. The 6-foot, 200-pounder led all NHL rookies in goals, points and power-play goals in the 1998 playoffs, and scored 17 goals in 65 games with Washington in 1997-98.
The Capitals hope Zednik will be in fine condition when he reports to camp, and expect to see him sometime today or early Thursday. After assessing his physical condition the team will decide when he will be ready for preseason action. The Capitals play five games in seven days, beginning tonight against Carolina in Fayetteville, N.C. Zednik usually reports in great shape and had been practicing with teams in his homeland.
However, there is always a danger that players who miss part of camp feel pressured by other young player progressing around them and try to do too much too soon.
"Missing 10 days is not the end of the world, but I personally believe it's important to be there from the start," McPhee said. "He has to catch up now and it would be nice if he had that under his belt. Everybody else is 10 days ahead of him and you always run the risk of hurting yourself trying to catch up with a truncated training period. He's always in great shape and he's been skating over there, so we hope it's not an issue."
Youngsters such as Bulis, Svejkovsky and Alexandre Volchkov have been impressive in camp thus far. Zednik was penciled on a line with Bulis and Steve Konowalchuk at the start of camp. Zednik's arrival will make it more difficult for Volchkov, the fourth-overall pick in the 1996 draft, to crack the lineup after two poor seasons in the minors. Volchkov had been skating in Zednik's spot. Regardless of which players are playing where, the Capitals anticipate big things from their group of youngsters.
"We always have these high expectations for some of these young people like Yogi and Zed," Coach Ron Wilson said. "But, to be perfectly honest, we still don't know what some guys can do because we've been so banged up.
"We've seen some points in series and playoff games, and I have an idea what Richard Zednik can do when he's healthy – same with Yogi and Jan Bulis – but potential does not win you hockey games. It's time to produce on a consistent basis. The season is 82 games. If these guys could give me 70 good games I'd be happy."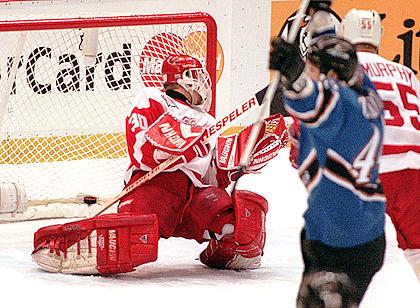 Richard Zednik's goal during the 1998 Stanley Cup Finals..