A Capital Fracas
Old Time Hockey At Its Best
---
For those that question the need for fighting in hockey, I submit to you the Boston Bruins - Washington Capitals game of November 21, 1998. A relatively unimportant game - early in the regular season - but surrounded by playoff-esqe intensity for these two teams. Little over 12 minutes into the game, a fracas breaks out on the ice that will result in 230 penalty minutes, 12 men thrown out of the game and at least 3 suspended games.
So how does this help the game you ask? Well, to put in bluntly, this will be a defining moment in the 1998-99 season for the Washington Capitals. Their play up to this point has been mediocre at best and this will either be the motivation to get it together, or to give up just 6 weeks in to the season. Wait and see, but when the Caps finish the season second in the Conference, I will direct your attention back to this game and show you just how important a good ol' style brawl can be!
| | |
| --- | --- |
| | This started the whole thing when Chief was on the bottom of a little scrum. |
| Mark Tinordi shows the little Bruin what fighting is all about. | |
| | Best friends (and best men in each other's weddings) Olie Kolzig and Byron Dafoe struggled valiantly to control their smiles as they did a dance by the boards. |
| When Dafoe came up to him, Olie said "Bysie, don't do it", laughing the whole time! | |
| | They were tusslin' all over the place. |
| Captain Dale Hunter sticks up for his teammates. | |
| | The aftermath. |
| Members of both teams try to figure out what belongs where and to whom. | |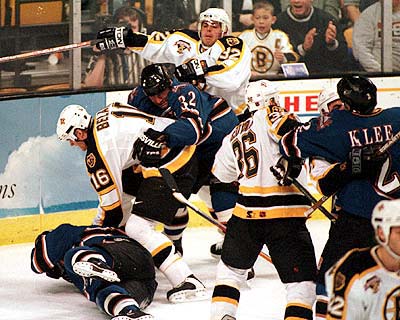 This helped the team overcome a 3 goal deficit and almost pull out a successful road trip (except for the last 30 seconds).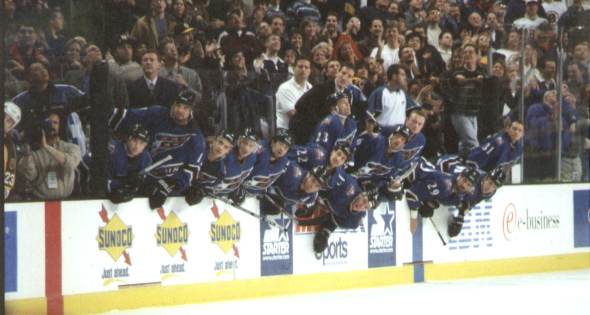 The bench looks on - some wishing they could jump in - all proud to be a Capital!
Return to my Homepage
Thoughts, Comments, or Pictures on the Fracas? E-mail me!
Blue-font pictures courtesy of fellow Caps Fan, Renata