Hunter had it all - except the Cup
Friday, July 30, 1999; Page B1
By Dave Fay
THE WASHINGTON TIMES
Two days shy of his 39th birthday, Dale Hunter slipped from the ranks of active hockey players yesterday with the grace of a champion, although he admitted his one true regret was that he never triumphantly carried the Stanley Cup around a rink.
With a few dozen prospects seated in front of him and past and current Washington Capitals ownership flanking him, Hunter retired after 19 years in the National Hockey League, 12 of them as a Cap.
"It's a tough thing to retire," the graying center said. "You always think you might have another round to go, but I think time always tells the story.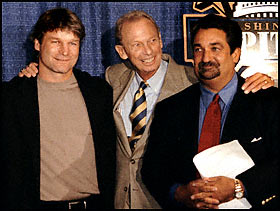 "The reason I'm retiring is the body's not as good as it used to be. I used to just go on the ice and do it; [now] I have to work three times as hard to achieve it and it got to the point I couldn't achieve it at the level I wanted to be at."
Hunter has already joined the Capitals' front office staff as player development instructor, the only job he has had in his life besides playing hockey and helping his father and brothers run the family farms.
At 5-foot-10, 200 pounds, Hunter was small by today's standards, but he was amazingly durable nonetheless. He played 1,407 regular season games for Quebec, Washington and Colorado during 19 seasons. He missed only 52 games because of an injury and another 28 because of suspensions. He was a healthy scratch only 20 times, all this season.
He actually ended his playing career June 4, when the Avalanche were eliminated by Dallas in the Western Conference finals. The tributes started then, just before the end of that game when Colorado coach Bob Hartley put him on the ice for the finish. Hartley later said if it indeed was Hunter's last game, he should be on the ice playing, not watching.
"Dale was talented, smart, durable, loyal, reliable, well-conditioned, committed, [gave] great leadership, tough and mean, mean, mean," Caps general manager George McPhee said. "Those are all the best things you can say about an athlete, and they are all embodied in Dale. We are delighted and very flattered that this man of such high regard has joined our organization to work with our kids."
Ted Leonsis, the team's new majority owner, has been polling Caps fans via the Internet and said yesterday there was no doubt about the findings of one recent sampling. Hunter was the fans' top pick as the greatest Cap of all time, defenseman Rod Langway coming in second and no other player close.
The poll was conducted before word of Hunter's retirement leaked out.
"Dale Hunter is representative of everything we want the Capitals to be," Leonsis said. "My words of advice to our prospects is, you can find no better mentor than this man."
Abe Pollin, who sold the team earlier this month after owning it for 25 years, said Hunter "was the guy who carried my team. He was the heart and soul of the team."
Actually, it was Michel Bergeron, then-coach of the Quebec Nordiques, who first uttered that phrase.
"Dale Hunter, he is the heart and soul of the Nordiques," a tearful Bergeron said the day he discovered that his star center had been traded to Washington. The deal so upset Bergeron that he never coached another game for the team, which has since moved to Colorado.
Only six coaches guided the fiery player during his career -- Bergeron, Bryan and Terry Murray, Jim Schoenfeld, Ron Wilson and Hartley.
Hunter was sent to the Caps on June 13, 1987, because the Nordiques' front office thought he would never fully recover from a broken leg he had suffered during the 1986-87 season. Hunter acknowledged yesterday that he returned too soon from the injury, competed in postseason and hindered his complete recovery for another year.
Instead of unloading damaged goods, Hunter lasted another dozen seasons and prospered. He even made it into an All-Star Game, appearing in San Jose in 1997 -- sort of an unspoken atonement from NHL commissioner Gary Bettman for nailing Hunter with a 21-game suspension for a late hit on Islander Pierre Turgeon in the playoffs. That a suspension was fitting was never disputed, but many felt one-quarter of the season was far too severe.
"Hunter was a fearless and intense competitor who always gave his all to his team," Bettman said in a statement yesterday. "His grit and tenaciousness earned Dale respect from his teammates and opponents alike."
Said Hunter: "I played 19 years and never won a Stanley Cup. That's something I missed, the opportunity to carry the Cup around. I think this is a great town, I played here 12 years and the one thing we're missing . . . is a Stanley Cup. But as [a friend] told me, if you can't win it when you're playing, you can win it when you're involved in management. I hope we can bring the Stanley Cup here."
Among those present for yesterday's news conference at MCI Center was Hunter's father, Dick, who watched three of his four sons (the fourth, Ron, missed because of a knee injury) make it in the NHL.
"I was there the day he signed his first contract and felt I should be here, too," the senior Hunter said.