He'll keep on being an asset
Friday, July 30, 1999; Page B1
Thom Loverro, Columnist
THE WASHINGTON TIMES
Washington Capitals general manager George McPhee chuckled when he told the story of his conversation with Dale Hunter about coming to work for the Caps.
"I want to do some work for you guys," Hunter said. "I'll work for nothing."
Typical Hunter. He operated on one-year contracts in the final years of his career. During the offseason before the Caps' trip to the Stanley Cup finals, Hunter nearly retired. But then-GM David Poile talked him out of it.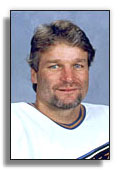 As Hunter was leaving Poile's office, the GM had to stop Hunter and ask him if he wanted a raise.
He might have played for nothing.
"I told him if we can put something together, you won't work for nothing," McPhee said, smiling at the thought.
The Caps did put something together, and Hunter made it official yesterday, retiring after 19 NHL seasons -- 12 with the Caps -- and becoming a player development instructor.
It kind of goes together, Dale Hunter and the Washington Capitals," Hunter said. "I've been here for so long, it's where I belong."
They will pay him, but what Hunter has to offer is priceless -- an intensity, passion and respect for the game that has become a vanishing commodity in sports.
"I wanted to do whatever I could to give back to the game of hockey," Hunter said. "If I could help somebody in any way with my playing experience. The game has been awfully good to me."
Hunter made the game miserable for his opponents as a rough-and-tumble player who never let up, who wanted to win so badly that the sight of Pierre Turgeon scoring a key goal against his team in the 1993 playoffs sent him into such a rage that he blindsided Turgeon with a devastating hit. He received a 21-game suspension, the longest non-drug-related suspension in league history.
People will always remember the Turgeon hit, but it won't diminish Hunter's legacy. His opponents always respected the intensity that Hunter brought to the game. Fans in other cities loved to hate him, but they'll never forget his toughness on the ice. His 3,565 penalty minutes, along with his 323 goals and 697 assists in 1,407 games, will be remembered as a measure of his determination.
"I want to be remembered as a player who was hard-working and contributed offensively and got there by my work ethic, and I came every night to play," Hunter said. "Someone who contributed when the chips were down."
That's why Colorado jumped at the opportunity to get Hunter last season for a playoff run. They came up short, and that was Hunter's last chance at winning a Stanley Cup. The closest he came was the Caps' Eastern Conference championship in 1998 before they were swept by Detroit in the finals.
Hunter knew his time was up after last season. "I had a philosophy where I played with one-year contracts for the past four years or so. At the end of each year, I would see how I played," he said. "I would see how good I felt and whether or not I was contributing enough. I had the feeling after this season that it was going to come to an end. That's why I asked George if they would consider trading me to a team for a playoff run, because I hadn't won a Stanley Cup and it was the last little piece missing from my career. He gave me a chance to go and try one more time, and I figured it would be my last chance."
It was his last chance as a player. Now he has a shot in management, with the Caps under new ownership, passing on his knowledge to the future of the organization -- its prospects.
"He will visit all of our prospects in Canada, the United States and Europe and study them, talk to them, go on the ice with them when he can, and talk about the mental and physical skills required to play in this league," McPhee said. "He will also go on the ice with our minor league team in Portland and our team here on a regular basis and pull people aside and teach.
"There isn't enough teaching going on in our business, and there is a development gap between the time we draft players and the time they turn pro," McPhee said. "Most of these kids who are drafted are only 18, and they go back to their amateur clubs for generally two to four years. They are in someone else's hands. Those levels, like this level, you win at all costs, and they don't teach enough. In our organization, that is Dale's responsibility."
Hunter -- who will turn 39 tomorrow -- met yesterday with coach Ron Wilson and his staff, enthusiastically beginning his new role with the organization. But he is not looking forward to watching the NHL season start this year without him in uniform.
I think the hardest thing will be September, when you see players on the ice in the heat of the battle in training camp," he said. "That will be the toughest, when the leaves start to fall, and you know it's time to get back to playing hockey. That will feel different."
But he is ready for his new job. McPhee saw that when he invited Hunter to join them in their player draft.
"We interview a lot of players during the draft," McPhee said. "I asked Dale if he wanted to come. I thought it would be a good experience for him. He wound up sitting in on every single interview and would stare right at these players. When he walks into a locker room or a player's home, they'll know within 30 seconds that he means business. He is the perfect guy for this job."
If Dale Hunter can teach them the kind of toughness and tenacity that he brought to the ice, the Caps won't be able to pay him enough