The Two Faces of Dale Hunter
By Nancy L. Marrapese
Special to ESPN.com
He is the grown-up version of Dennis the Menace. He's been vilified in some circles, justifiably at times. He's been called every name in the book. If there is a cheap on-ice tactic, Dale Hunter not only knows about it,he's used it and probably perfected it. In his 19 years in the National Hockey League, Hunter has been called the enemy in several languages.
Washington did Dale Hunter a favor by sending him to Colorado. Love him or hate him -- and there are many out there who fall into both categories -- Hunter has been a presence in the NHL. Now, at 38, he is on the downside of his career. But he has a chance, almost certainly his last, to win the Stanley Cup with the Colorado, thanks to a trade Tuesday from Washington to the Avalanche.
In Detroit and Denver, the trade deadline deals were met with the resounding sentiment that the Red Wings had helped themselves remarkably while the Avalanche hadn't really addressed their needs for a playoff run.
Hunter was among those players who went from the outhouse to the penthouse at the trade deadline. He went from having no chance at the postseason, because of Washington's injury-riddled demise, to contender status with the Avalanche.
So there they are -- Hunter and Claude Lemieux on the same team. Talk about karma. Talk about an irritation factor. Sticks in the groin, elbows in the face, menacing sneers -- all in stereo in the Mile High City.
After Tuesday afternoon, all the talk was about prickly defenseman Chris Chelios going to the enemy Red Wings from Chicago. From all accounts, it seemed a bizarre form of arm-twisting, with Chelios insisting that he didn't want to go, but he didn't want to stay --unless, of course, the Blackhawks promised him a two-year contract extension. Not falling for it, the Hawks bid their captain farewell and good luck and helped Detroit's chance for a third straight Cup.
Chelios is no stranger to on-ice bad behavior. But where the move of Chelios from one team to another seemed more steeped in finances than anything, the move of Hunter from Washington to Colorado seemed to come more out of compassion.
Does Hunter, who was a healthy scratch at times this season, have a great deal left to give at this point in his career? Even he told reporters after the move that he didn't know. "At my age, I don't think you can really predict," he said.
In Boston, where Ray Bourque has played his entire career, there is a heavy sympathy factor due to the fact that Bourque hasn't ever won a Cup in 20 years and with his career winding down, it's likely he won't. The Bruins will never overpay to bring a Cup to Boston and Bourque has, after considering it a couple of years ago, already ruled out changing teams in an effort to win one.
In the cynical world we live and the ever-increasing cynical world of sports, there's something really remarkable about what Washington Capitals general manager George McPhee did.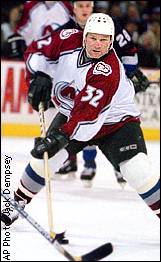 He gave up Hunter and a third-round pick in 2000 for a second-round draft choice to the Avalanche (which they received from the Canucks as compensation for hiring coach Marc Crawford), but afterwards said he would've given Hunter to the other team for nothing if he couldn't have gotten anything for him.
"I'm really pleased that Colorado showed (Hunter) and us that kind of respect because they probably could've done the deal for less," McPhee told the Washington Post. "I told (Hunter), 'At 2:59, if I can't get anything for you, I'll give you away for nothing.' "
Was there anything that Hunter could do for the faltering Caps this season?
Certainly not -- their fate was sealed.
But after making it to the Cup finals last year as the unlikely Cinderella team, McPhee offered a parting thank you to Hunter, giving him one last chance for the type of glory that has thus far eluded him.
Hunter, who began his career with the Quebec Nordiques (now the Avalanche), was the captain of the Capitals since the lockout-shortened 1994-95 season. In his career, he is the only player to rack up 1,000 points and 3,000 penalty minutes.
As much as he is despised on the ice, that's how well thought of Hunter is off the ice. Yes, he did deliver a crushing blow to Pierre Turgeon, then of the Islanders, during the 1993 playoffs after Turgeon scored a goal that made it clear Washington would be eliminated. Was it reprehensible? Absolutely. And Hunter paid for it with a quarter-season suspension the next year.
However, given all of that, Hunter's game may have diminished but his value around a team -- any team -- doesn't seem to have ebbed at all.
Bruins' wing Anson Carter, a former teammate of Hunter's, said the old warrior taught him all kinds of cheap stuff, and not just any cheap stuff -- worthwhile cheap stuff.
"I learned a lot about little things," said Carter. "Where to hook guys, where to hack guys, where to slash them in the ankles. He's that best at doing stuff like that. You don't realize it but after the game, you've got welts and bruises on your arms. He just knows where to hack guys where they don't have any equipment."
Off the ice, Hunter has a far different demeanor. He's exceedingly polite, shy even. One of the more poignant aspects of his career came during the 1997 All-Star Weekend in San Jose. Hunter was a commissioner's selection to the Eastern Conference team. While everyone else was having a blast, Hunter looked as if he wanted to be invisible. It made sense in a funny kind of way. Dino Ciccarelli, himself a four-star agitator during his career, is from the same hometown as Hunter -- Sarnia, Ontario.
Ciccarelli explained it best, saying he completely related to what Hunter had been going through that weekend although he, unlike Hunter, had been there before.
The example Ciccarelli used then was a game against the Rangers when Mark Messier was still there.
"Me and Messier were going at it and then you've got to go in and kind of shake his hand (as a member of the same All-Star team)," Ciccarelli said.
"Dale's a competitor and I'm a competitor and I think that's what Dale was kind of uncomfortable with. He's always in the faces of all these guys here because he's checking the top players around the league. I know he was a little nervous about it but everyone made him feel comfortable."
A key point made about Hunter by Ciccarelli is the inherent value of a player such as Hunter, who embarks on a form of psychological warfare in an effort to throw star players off their game.
"He's played hard all the time," Ciccarelli said. "He's had a couple of suspensions that have probably hurt him a little bit but that's the style of this game. You see how playoffs are played, it's in-your-nose, hard-faced hockey and that's the style he plays."
Even Chelios was singing Hunter's praises for being recognized as an All-Star that year.
"He's been through the wars," said Chelios. "Sometimes it's overlooked, what he's done for his team and his leadership. Dale would never want to be called a superstar, I'm sure, but he's just as effective as a superstar or an All-Star type player. As much as you hate him, it's the same old story, you'd love to have him on your team."
And now the Colorado Avalanche have him on their team. And with Chelios and irritating blue liner Ulf Samuelsson now in Detroit, the rivalry between those two teams, which is as big a hate-fest as you'll see in any sport, just got a little meaner.
Ironically, all because of the kindness of McPhee.
Figure that