MsCapsFan's Page for the
Washington Capitals!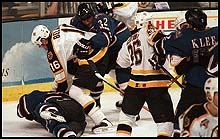 See highlights from the Caps fracas in Boston (11/21/98).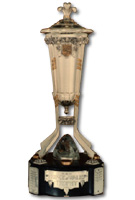 The Washington Capitals won the Prince of Wales Trophy as the 1997-98 Eastern Conference Champions!
*Injuries - Follow the never-ending saga of the Washington Capitals injuries
*Schedule - Check the tv schedule and results from the latest games.
*1998 Playoff Summary - Scores, Locations, Pictures, Etc.
*Links - Official, Media, Broadcast, Fan Pages
*Transcripts - Transcripts, articles and either interesting items pertaining to the Caps.
*1998 Banner - Highlights from the Eastern Conference Banner Raising
*1999-2000 Salaries - Salaries for the 1998 Capitals Roster
*St.Louis - Check out my trip to see the Caps play the Blues in November `98


Leave a message in my Guest Book