Jaromir Jagr Shuns American Women, Dons Skirt
Monday July 26 12:12 PM ET
PRAGUE, Czech Republic (Reuters) - Pittsburgh Penguins star forward Jaromir Jagr says he would rather stay single than marry an American.
The 27-year-old National Hockey League's 1999 most valuable player told the daily newspaper ``Blesk'' in his Czech homeland: ''I would never take an American woman, I would rather remain single until death.''
Jagr, who brings his mother over to cook for him in Pittsburgh each season because he cannot stomach being without Czech food, told the paper that during his recent stay in Prague he was courting 24-year-old Czech TV sports anchor Nicol Lenertova.
He said he was nearing the age when he wants to marry and when that time comes, she must be a Czech.
"All of our (Czech) men should thank God for the precious jewels we have here,'' Jagr told the newspaper.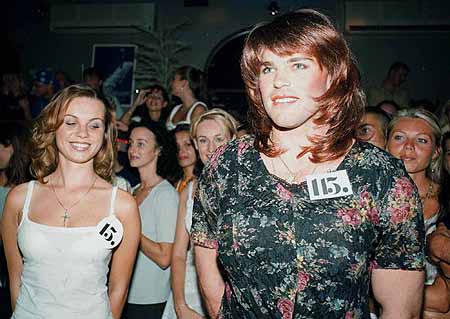 He said he lamented having to go back to Pittsburgh after his two month holiday at home.
"It's like going from heaven to hell,'' he said.
But taking a page of NBA basketball star Dennis Rodman's playbook over the weekend, Jagr shocked his fellow Czechs by donning a dress, wig and makeup to parade in the "Miss Faceoff" competition at a local sports bar.
Judging by the pictures published in Blesk, he was neither a finalist or one of those Czech jewels.