Adam Oates: Success Through Unselfish Play
Monday, February 15, 1999,
Adam Oates has always been known as a player who never passes up the opportunity to set up his teammates for the perfect shot. In fact, Oates' penchant for passing actually began before his NHL career started(1985-86) with the Detroit Red Wings. In three seasons with Rensselaer Polytechnic Institute (RPI), Oates scored 66 goals in 98 games. But, as has been the case throughout his NHL career, the hallmark of Oates' game was his ability to put the puck on the stick of his teammates. In his career at RPI, the Weston, Ontario native contributed 150 assists, an average of 1.5 per game.
Nhlpa.com recently spoke with the 36-year-old centerman and got the inside line on what prompted him to focus his game on creating chances for his teammates, as well as some of his fondest memories of his career to-date.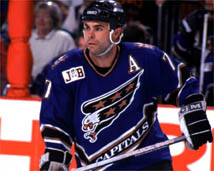 You're regarded as one of the best pure passers in the league, but you really honed that aspect of your game prior to playing in the NHL.
"I think my whole life…my parents are from England and my father played soccer growing up. Soccer is a low-scoring game, there's a lot of passing and it's very unselfish play. My dad has always asked me to play like that. It's something I always felt more comfortable with. I like to set a guy up rather than score."
Tell us about your career at RPI.
"I think RPI helped me in a few ways. Hockey-wise, it gave me a chance to grow as a player. I was at that age where I was still growing physically and skill-wise. It gave three years to improve as a hockey player and gave me a chance to make it to the NHL. I think it also helped me to become more of a man. It helped me to be more independent and to handle more stresses."
Tell us about the transition from the collegiate ranks to playing with the Red Wings.
"The first year was very tough. No question. The first year was tough, not just for me, but for the whole organization. I took my fair share of criticism, but we all did as a group."
At this point, what were your career expectations?
"I think any guy that comes into this league has goals and I was no exception. My first goal was just to stay in the league. That takes a few years. That feeling of knowing that you're established. That took me…actually I didn't get that feeling until I got to St. Louis. The year that we went to the semifinals in Detroit and Steve Yzerman got hurt, I got the chance to play more and I showed people I could produce. More minutes really helped me.
"Tell us about October 10, 1985, your first game as an NHLer.
"We played Minnesota. We tied 6-6. I scored in the second period. It was a pretty cool feeling. It was actually the first goal of the season for the team. Five minutes later, I set up John Ogrodnick for my first assist. I wish it would have been like that every night because I think I went about 20 games without getting a point."
Who were some of the guys who helped you out as a rookie?
"I have to admit that Steve Yzerman was always nice to me. He's a little bit younger than me, but he had been in the league a few year before me. John Ogrodnick and Ron Duguay were very nice to me. Those are the guys who come to mind.
"You spent 34 games in the minors in your first NHL season. What went through your mind when your were sent down
"I think you go through a lot of emotion swings. Nobody's happy being sent to the minors and I was no exception. I was miserable. One of the first games I played in the minors I was beaten up pretty soundly in Hershey. I got off to a shaky start. I felt resentment for being sent down because I didn't feel I deserved to be. I don't think I was given a fair shot at the start of the season. But, hey it happened. I was bitter for being in the minors, but after a week or so of that, you get over it and play hockey. Bill Dineen was a great coach in Adirondack. He really handled the guys well. He was great to me. After a few games, I got the ice time and played with some good guys."
What are the fondest memories of Detroit?
"I really loved being there. We were treated great. My second and third year we went to the semifinals. That had to be one of my career highlights, playing against those Edmonton teams."
It was anything but a bad beginning when you went to St. Louis.
"Very lucky. I got traded. When you first get traded, you're always devastated for a little bit. I got traded during the summer and it really hurt. I didn't understand why I was going to St. Louis at the time because they were a division rival and I was coming off my best statistical year. But, we lost in the playoffs and changes had to be made. I was lucky I went to a team that believed in me and gave me quality minutes. My career started to prosper."
Between the minors and the trade, how were you able to keep up your confidence?
"After you get over the initial shock of a trade, you want to prove to everybody that you can play. Brian Sutter was a great coach in the sense that right away there was never a doubt that I wasn't going to get the ice time. I got to play with good guys. I got to play with Rod Brind'Amour and Paul MacLean my first year. It was Roddy's first year. We had a pretty good team and put some points on the board. Once you get on a roll, then everything is forgotten."
Was this the time you felt a long and prosperous career was in the works?
"I would say it was around then. Although I maybe wished it prior to that, getting traded really puts a damper on that. When I came to St. Louis I became one of the "key guys" so to speak, one of the guys counted on to contribute and I got the ice time. All of those factors give you confidence."
What are some of the highlights from playing in St. Louis?
"I think it's easy. It was playing with Brett Hull. He scored 86 goals the second year. The second-most ever. That was so much fun. Those were probably the two must fun years I've had in hockey. Brett and I lived near each other, we roomed together, we played together. It seemed as though we couldn't do anything wrong."
What's it like playing against him?
"It's funky a little bit, but we're over it."
You then moved on to Boston, where you led the league in assists (97) in 1992-93. Tell us about life as a Bruin.
"It turned out to be great. It's a fabulous city. I got to play with Ray Bourque and Cam Neely. It took awhile for me to play with Cam because of his injuries, but that was a fabulous year. 142 points. Guys scored a lot of points that year. Things just went well."
Is there a need for you to assume a higher profile as a leader?
"A little bit. I think I'm regarded as such. Once again, we have a very veteran team. We had a meeting the other and day and it's funny, all of our younger guys seem to come from the Czech Republic and they worship Peter Bondra. There's a hell of a lot of responsibility on Peter."
I'm guessing that you're a lead by example player.
"Definitely. Actually, I've never played for a guy who is a "rah rah" captain. It's been lead by example guys like Steve Yzerman, Ray Bourque and Scott Stevens."
You've reached the 1,000-point plateau and 1,000 games is in sight. Is there anything left to do? I assume there's one obvious thing.
"Well everybody wants the Stanley Cup and I'm no different. But, as for other goals, the 1,000 games is, I think, a lot better than 1,000points. I've always said that about guys. To be able to be durable for a long time…if you're a point guy, it's easier to get points, but guys who are soldiers, like Kelly Miller, that's incredible. He had to make it in the league for other reasons than just getting points. That's not easy to do."
Are you tougher on yourself nowadays?
"I think I've always been self-motivated. I know when I play good and when I don't. I think the easiest thing to do as you get older is to know when you play badly. You don't need a coach to tell you."
Does it feel like days, not years, since your career began?
"Yes it does. It goes by really fast. Fourteen years."
Have you given thought to putting your management degree to use or would you prefer to stay in hockey when your playing days are over?
"Both. I'd love to stay in hockey in a management position. I really would. Whether it's coaching, assistant general manager, general manager, that kind of field. If somebody would take me on I'd like it."
Tell us about your involvement with the Big Brothers program in Washington.
"That's something the Capitals started and asked me to participate in. I can't say I've had to do too much, but it's no problem for me to do it all. To be honest with you, hockey guys have always been great about that, going to children's hospitals and other things. When you get a kid who isn't feeling too good and would like to talk with you, you go running."
Tell us about "Old Time Hockey."
"It's an idea that came about the year the league brought back the'Original Six' uniforms. If you look around other sports people like the authentic look. We talked about how people like to wear the old look every once and a while. The Rangers are wearing the jersey with the lace in it and I love it. We thought it would be cool to have apparel that the "old-time" look to it. My buddies formed the company. They wanted to make it a clothing line,not just a hockey line. They've got shirts, hats, coats and other merchandise. A percentage of every sale goes to charity that supports former players that need help and for the growth of the sport."