License to Protest
By Lloyd Grove
The Washington Post
Tuesday, January 9, 2001; Page C03
Blame Canada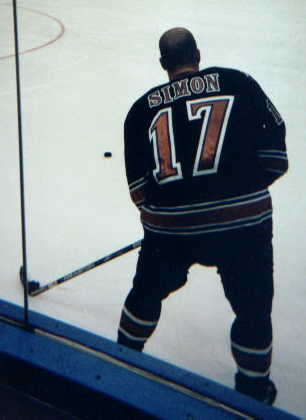 Fans of the Washington Capitals no longer have to wonder why star player Chris Simon shaved his once-long hair down to a military-style nub last summer.
"It's a protest against the Ministry of Natural Resources," the 28-year-old Wawa, Ontario, native told us after revealing his reasons to ESPN: The Magazine. Simon claims that the Canadian government has been harassing Indians like himself by demanding to see their hunting and fishing licenses. "I have aboriginal rights to hunt and fish as I need," said Simon, whose father is a full-blooded Ojibwa. "If I want to go hunting with my grandfather, which I've done since I was a kid, we don't need a license."
Simon said he's had repeated run-ins with ministry officials, including an incident last summer when he was fined for failure to produce his fishing license -- never mind that he has one. "I grew my hair long because I am proud of who I am, and I shaved it to make people aware that people aren't being treated fairly."
Simon, who is left wing (his hockey position, not his ideology), said his NHL Southeast Division-leading teammates have been very supportive of his new political persona. "They understand what's going on, and they know what kind of guy I am." On the personal front, Simon and his brand-new wife, Valerie, are expecting a baby in May and are setting up a nursery in their Bethesda home. Boy or girl? "We know what it is, but I don't want to say."