'Time to Replenish' for the Long Run
By Thomas Boswell
Washington Post Columnist
Wednesday, March 24, 1999; Page D1<
On Sunday, the Capitals lost to Boston, the team they had to beat if they were to reach the NHL playoffs. With a dozen games left, the message was clear. One year after reaching the Stanley Cup finals, the Caps' season is a washout.
"This pretty much puts the nail in the coffin for Washington," Bruins goalie Byron Dafoe said.
Normally, on such bitter occasions in pro sports, finger pointing is in order. Who's to blame? Who got a swelled head, a fat contract or a bad attitude? The Caps themselves were despondent.
"Probably the worst game I ever played in my life," Sergei Gonchar said. "I just talked to Dale Hunter and he said the same thing. He's been in the league 19 years and he said it was the worst game he ever played."
General Manager George McPhee went through the clubhouse, telling several Caps he was about to trade them, though rumors had swirled for weeks. They'd be gone in 48 hours. He told one player: "If I have to give you away for nothing, I will."
In a way, McPhee was thanking a couple of his players, not kicking them out of town. Where do you want to be traded? Where might you be able to make one more Stanley Cup run?
"These players did it for us last year," McPhee said of the thrilling and unexpected trip to the finals, which ended with Detroit sweeping Washington. "We wanted to do it for them this year."
Yesterday, one right after another, McPhee traded veteran Joe Juneau, 13-year veteran Craig Berube and, yes, Hunter, too.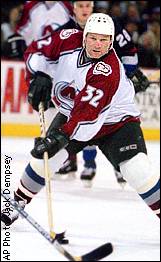 "This club competed like hell this season, but they just couldn't win because they weren't good enough," said McPhee, whose team has lost 422 man-games to injury in 1998-99, though it also lost more than 400 last season when it did so well. "We're never going to forget last season. I don't feel any differently about any of our coaches or players than I did then. [Because of injuries] we just didn't have a team."
Most of all, McPhee wanted to take care of Hunter, who has been the heart, soul and knuckles of the Caps for the last 12 years, serving as captain since the 1994-95 season. No other player in NHL history has both 1,000 points and 3,000 penalty minutes. As much as any player, Hunter would score on you one minute, then punch you in the mouth the next. And not apologize for either. In fact, he relished both.
Meet him once and you knew the player. Brief sardonic grin. Stubble beard. Matted hair. Mischievous twinkle in the eye. Built like a tall fireplug. His 1,000-3,000 record, according to one NHL vet, is akin to having the talent of a quarterback yet also playing smash-mouth football like a linebacker.
McPhee offered to let Hunter stay and play every game or be traded wherever he thought he had the best chance to win the Cup. Instead, Hunter asked McPhee where he should be traded.
"Colorado," McPhee said.
"[Then] that's where I want to go," Hunter told McPhee, according to the GM.
At that moment, McPhee made one of the rarest promises you'll ever hear in sports. The NHL trade deadline was 3 p.m. "At 2:59, if I can't get anything for you," McPhee said he told Hunter, "I'll give you away for nothing."
Instead, Hunter's grit, experience, leadership on the ice and clubhouse energy were so highly respected that Colorado traded a valuable draft pick – lowly Vancouver's second-round selection in this year's entry draft – for the soon-to-be-39-year-old Hunter and the Capitals' third-round pick in 2000. Right to the last, Hunter gave the Caps maximum value. The kid they eventually get for him might play a decade.
"Now that is a compliment to character. ... Hunter is the toughest, most courageous player I have ever seen. And I don't think it's close," said McPhee, who played in the NHL for seven years. "Every game and every practice, he showed up with the smile. But when he went on the ice, the smile went away. He was as tough as they come. ... The ultimate compliment to Dale is that now, at the end, after 20 years of being chastised as ruthless, mean, uncompromising, everybody will say, 'Hall of Famer.'"
Yesterday's trades mark an obvious shift in Caps history. Hunter, Juneau and Berube played a total of 23 seasons in Washington. Juneau scored the goal that put the Caps in the Stanley Cup finals. Now, with six unrestricted free agents still on the roster – some of them sure to leave after this season – the aging Caps will soon have a fresher face.
"This wasn't much fun. But it will be good for us in the long run," McPhee said. The Caps got one warm body – a young defenseman, Alexei Tezikov from Buffalo for Juneau. More important, they got four draft picks that will all be higher than their first pick last year. McPhee told owner Abe Pollin: "It's time to replenish."
"Now, we can restock [with youth]," said McPhee. "This is not a rebuilding. Maybe a retooling. We have an excellent core. This is not about tearing things apart. I like where the team is."
Faced with a disaster, McPhee tried to turn it to his advantage. "Maybe these draft picks were the silver lining [in a bad season]," he said.