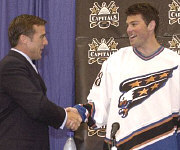 Newest Cap Is Right at Home
Jagr Charms Owners, Media, Fans
By Jason La Canfora
The Washington Post
Wednesday, July 18, 2001; Page D01
The Washington Capitals formally welcomed recent acquisition Jaromir Jagr to the organization yesterday, and the gregarious right wing quickly expressed a desire to break with his past.
Jagr, 29, pointed to two dates next season: Dec. 11, when his former team, the Penguins, visits Washington and Dec. 21, when he makes his return to Pittsburgh, and said he hopes to display the form that earned him the reputation as the greatest hockey player in the world.
"It's going to be strange," Jagr said of facing the Penguins. "It's going to be something new for me, a new experience to play against the players I like and have been friends with. But on the other side, of course I want to prove to the Penguins that they made a big mistake."
At a news conference at MCI Center, Jagr spoke candidly about leaving former teammate and owner Mario Lemieux, Jagr's idol since he was 13 and his mentor. The Penguins traded Jagr, the NHL's most valuable player in 1998-99, for financial reasons -- he has two years and $20.7 million remaining on his current deal -- and because he asked Penguins General Manager Craig Patrick for a trade after the season.
"Right after the season I asked Craig to be traded again, just because I thought [Pittsburgh] was not a good place for me," Jagr said. "To be on the team, I didn't think it would be good for me or good for Pittsburgh. Then I just wish I can go somewhere where the team wanted me to be there and it would feel like home to play for somebody who is happy to have me there.
"And I didn't care where I was going to go, but after [the trade to Washington] happened I started thinking about it and getting happier and happier every day. [Monday and yesterday] I had a chance to meet the players and I feel great. We have a good team, a great team and, like I said before, to win the [Stanley] Cup you have to be very lucky and hopefully we can do it."
Jagr, who has won four straight scoring titles, displayed a quick wit throughout the proceedings, which included a brief photo session outside the White House. He met his new owner and teammates for the first time since last Wednesday's trade from Pittsburgh, the team that drafted him fifth overall in 1990 and the only club he has played for since he was 18.
Jagr's brief tour of the area began Monday night, when about 300 fans greeted him at Dulles International Airport. Jagr, who won back-to-back Stanley Cups in 1991 and 1992, stepped off a flight from his native Czech Republic and was shocked by the outpouring of support. Primary owner Ted Leonsis greeted Jagr with a bear hug and he and his management team took Jagr to dinner. Four Capitals players attended yesterday's news conference -- center Jeff Halpern and defenseman Joe Reekie, Sylvain Cote and Brendan Witt -- as did Coach Ron Wilson and his assistants, Tim Army and Tim Hunter. Everyone in the organization has expressed enthusiasm with the trade, with yesterday's news conference bringing an end to what Leonsis termed "the sixth day of the Jaromir Jagr lovefest."
"I feel like I've been un-handcuffed," Wilson said of the prospects of coaching a player with Jagr's skill. "That's not a knock on our players, it's just the thinking of being creative and being given a whole new palette of colors to paint with."
Jagr spends his summers vacationing in Europe and was unable to travel to Washington until Monday. Jagr, who holds the NHL's single-season record for assists and points by a right wing (149), said he will return to his homeland today and begin the search for a new home here during training camp in September. He smiled throughout yesterday's festivities and said he felt immediately comfortable sporting the jersey of the team that was his fiercest rival while with the Penguins.
"Of course, I feel comfortable," Jagr said. "I am happy I am a Washington Capital and it's only been a week, but during the week I met a lot of people here and back in the Czech Republic and they're very excited about it and I'm very excited. I just want to do very well here."
Jagr (439 goals and 1,079 points in 806 career games) charmed the Capitals yesterday, unveiling one-liners, repeatedly prompting Leonsis and General Manager George McPhee to erupt with laughter on a wide range of topics. Jagr said his girlfriend was hoping he would be dealt to New York so that she can improve her burgeoning modeling career, but he offered some new advice: "Maybe it will be better for her to go to school here. Stop modeling and just study." Jagr was asked what McPhee told him about playing for Leonsis: "George said, 'The owner is very funny and he's got a lot of money.' " Jagr also offered a lighthearted take on his imminent search for a new home while posing for pictures in front of the White House: "I'm looking for a house; I like this one."
McPhee and Leonsis lauded Jagr for not only his considerable on-ice talents but his engaging personality. His presence should elevate the level of respect of the organization. Jagr is clearly the biggest star to play for the club since its inception in 1974 and a recognizable face around the world. The Capitals have had difficulty recruiting free agents but Jagr's arrival should alter that and Leonsis's commitment to raising the payroll should induce other players to re-sign with Washington. Both Jagr and the club referred to the dawn of a new era of hockey in Washington.
"I picked up the papers [the morning after the trade] and said, 'Holy smokes, we pulled it off,' " McPhee said. "It's been a really neat thing, honestly, and we've accomplished something huge here: For the first time in 27 years I think people think we mean business, and we do."
© 2001 The Washington Post Company